Meet Our Veterinary Team
in Alameda, CA
Our veterinarians are dedicated to your pet's physical health as well as their mental well-being. Most of our staff are Fear Free Certified Professionals who have the training and the techniques to help every pet have a positive experience with us. Our locally-owned practice is also certified Cat Friendly, which means our staff went through additional training in cat behavior and medicine to better understand our feline patients and help them have a less stressful visit. Find out more about our extraordinary veterinary team in Alameda, CA! When you're ready to meet us in person, call our East location at (510) 521-6608 or our West location at (510) 521-5775.
You can also read our reviews to get a better feel for our team. Or, if you've been in to see us recently, we invite you to share your story and leave a review of your own!
I am a new client, and my visit exceeded expectations. Thank you!
- Tiffany M.
The staff always go above and beyond to meet the needs of their patients and their owners.
- Cordia L.
The vet tech was kind, knowledgeable, and very helpful.
- Kristine K.
The staff and doctor were very nice and comforting to me and my pet. They are my new vet for life!
- Gina T.
Open on the weekend! Great clinic and friendly staff! Thank you!
- Michael K.
Great staff and great service.
- Kevin P.
What a fantastic vet hospital and clinic! They were extremely friendly, professional, and reasonably priced.
- Nathan Y.
Dr. Miller grew up in San Diego and has loved animals from an early age, using his season passes at the San Diego Zoo, Safari Park, and Sea World as often as possible. He earned his DVM from UC Davis in 1998. He moved to Alameda at that time and has worked as a veterinarian in Alameda and Oakland.
Dr. Miller and his husband, Steve, have lived in Alameda since 1998. They share a home with their two rescued cats Zinnia and Farallon. In addition to traveling and pop culture, he enjoys working on his home on locally famous Christmas Tree Lane. Dr. Miller is a board member of the Friends of the Alameda Shelter (FAAS).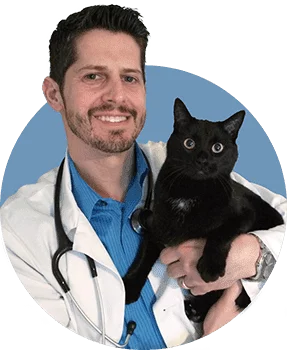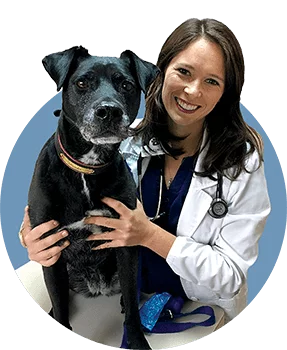 Dr. Cassandra Clemens grew up in San Diego and attended the University of California Davis where she graduated summa cum laude with a B.S. in animal science. She attended the School of Veterinary Medicine at UC Davis, emphasizing in companion and livestock animals. She earned her veterinary medical degree in 2014.
Dr. Clemens has interests in general surgery, reproduction and obstetrics, dermatology, and internal medicine. She has a special interest in behavioral medicine and addressing issues such as separation anxiety, inappropriate elimination, and aggression. She is an active member of the American Veterinary Medicine Association (AVMA) and the California Veterinary Medical Association (CVMA).
In her spare time, Dr. Clemens enjoys spending time with her friends and family as well as her cat, Franklin, and dog, Natalie. She also enjoys reading, art, travel, and training for triathlons.
Dr. Claire Lender was born and raised in Portland, Oregon. Growing up she loved animals and spent many hours volunteering at the OHSU Primate Center.  Dr. Lender received her bachelor's degree in Animal Science at Cornell University and her doctorate from Oregon State College of Veterinary Medicine, graduating at the top 10% of her class.  It was there that Dr. Lender fell in love with dermatology cases. After graduation,  Dr. Lender worked at a clinic in Eugene.
Dr. Lender and her husband recently moved to Alameda with their two cats, "The Barnacle" and "Brambles," and black lab, "Catfish". In her spare time, Dr. Lender enjoys singing, hiking, yoga and exploring new places to camp.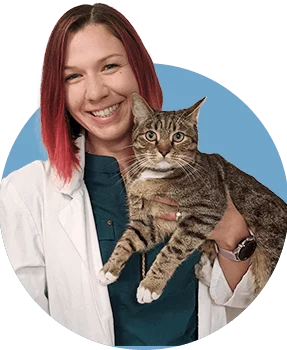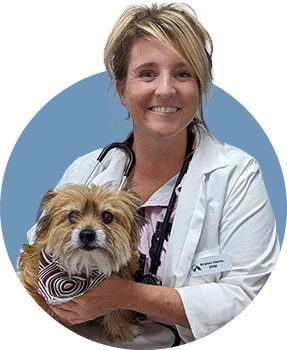 Dr. Kristen Harris grew up in the Central Valley with cows in the backyard, cats in the house, and a stable of neighborhood dogs roaming her yard at all times. After graduating from Stanford University, she attended UC Davis Veterinary School and graduated in 2007. She practiced in Marin County for six years prior to moving to the East Bay. Her veterinary interests include surgery and dermatology. In her spare time she enjoys gardening and attempting to do CrossFit workouts. She lives in Alameda with her husband, two kids, dog, and cat (not necessarily listed in order of preference).
Dr. Miller served in the Coast Guard from 1969-1973. He was on the original crew of Vessel Traffic Service that controls ship traffic in San Francisco Bay. He earned his DVM from Oklahoma State University in 1980. He then served in the U.S. Army for three years as post veterinarian of the Presidio of San Francisco. In 1983, he joined a private practice. He joined Providence Vet Hospital in 1993.
Dr. Miller and his wife, Catherine, live in Alameda with their rescued Golden Retriever, Buddy. Their daughter, Allison, lives in Charlotte, NC with her husband, Thad, son, Jack, and two rescued Golden Retrievers.
In his off time, Dr. Miller enjoys swimming, biking, photography, and collecting die-cast metal cars. He has participated in the swim from Alcatraz and the Bay to Breakers. He also tries to spend time at a family cottage in Pennsylvania when he can get away.